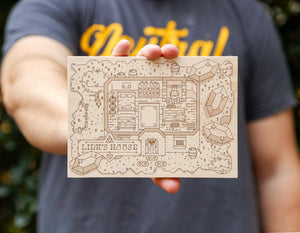 Woodlands Mini: Link's House (The Legend of Zelda: A Link to the Past)
Sale price Price $40.00 Regular price
About this listing
You could stay at Lon Lon Ranch or the Happy Hearth Inn as you travel through Hyrule. Or you could live like a local in one of the realm's most unique places to stay. This charming tree house in Kokiri Forest is centrally located to most of Hyrule's popular destinations, making it convenient for weary wanderers.
Link, the owner of the house, is rarely home as his business takes him away regularly. However, you'll find everything you need to make yourself comfortable, including a cow that produces the sweetest Lon Lon Milk this side of Hyrule Field.
The Space
Accommodates: 1
Bathrooms: 0
Bed type: Single
Beds: 1
Property Type: Tree House
Room type: Entire home/apt
House Rules
Guests are welcome to use any Potions and Magic Powders on the shelves, but please be courteous and clean up any smashed pots. The Treasure Chest is strictly off limits.
Instant Book Your Order for Link's House Now!
Link's House is a collaboration with Minneapolis native' Alex Griendling, Hero of Graphic Design.


This mini map is etched on maple ply hand-selected from the Kokiri Forest. It measures 7" wide by 5" tall.
Includes a keyhole slot on the rear for hanging.
Alex Griendling is a freelance graphic designer and illustrator who grew up in the geographically midwestern, culturally southern, state of Kentucky. After graduating, he left his home state to make movie posters in LA, ad campaigns in Minneapolis, and to work for Google in NorCal.
He likes to create work that makes people smile, and thinks that a lot of creative types are probably a little too stuffy for their own good. Somehow, he has more southern mannerisms now than when he left the south six years ago.
Alex now lives in Minneapolis with his lovely wife Meagan and their two not-so-lovely cats, Batman and Rocko.