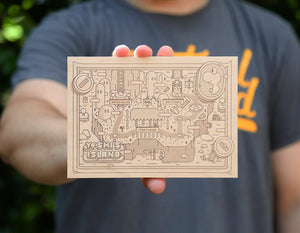 Woodlands Mini: Yoshi's Island (Super Mario World)
Sale price Price $40.00 Regular price
About this listing
If you want to experience Dinosaur Land like a local, stay with a local! Yoshi's House is the perfect starting point for any tour of the area, giving you quick access to Donut Plains and other favorite attractions.
Yoshi's House is an ideal home away from home for travelers who enjoy experiencing the great outdoors first-hand. One of our most unique residences, the house combines the elegance of the tiny house movement along with a spacious, open-air layout.
The Space
Accommodates: 1
Bathrooms: 0
Bed type: Single
Beds: 1
Property Type: Open air tiny house
Room type: Entire home/apt
House Rules
While Yoshi is searching for friends who wandered into one of Dinosaur Land's more dangerous neighborhoods, he asks guests to please check his Message Box for important deliveries.
Yoshi and his family are well known for their early adoption of the rideshare economy, so avoid the hassle of catching a ride on an unreliable Bullet Bill and get a lift from Yoshi on your expeditions!
Instant Book Your Order for Yoshi's House Now!
Yoshi's House is a collaboration with Minneapolis' Super Graphic Designer Alex Griendling.
This mini map is etched on maple ply and is, as such, flammable. Keep your mini map safely stowed when confronted with Flamethrowers, Blowtorch Guys, and other fire hazards. It measures 7" wide by 5" tall and is capable of inflicting X2 damage to enemies.
Includes a keyhole slot on the rear for hanging.
Alex Griendling is a freelance graphic designer and illustrator who grew up in the geographically midwestern, culturally southern, state of Kentucky. After graduating, he left his home state to make movie posters in LA, ad campaigns in Minneapolis, and to work for Google in NorCal.
He likes to create work that makes people smile, and thinks that a lot of creative types are probably a little too stuffy for their own good. Somehow, he has more southern mannerisms now than when he left the south six years ago.
Alex now lives in Minneapolis with his lovely wife Meagan and their two not-so-lovely cats, Batman and Rocko.