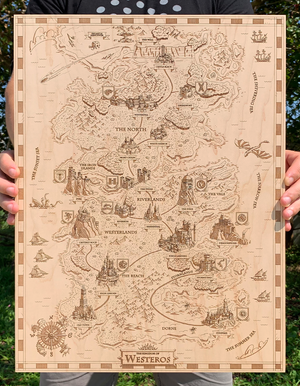 Woodlands: Westeros
Sale price Price $150.00 Regular price
From tropical holidays in Sunspear to cozy fireside retreats in Winterfell, Westeros offers a vacation destination ideal for every traveler. Whether you're here for the scenery, the excitement, or the shopping, you'll find it in the Seven Kingdoms. Take a leisurely stroll through the Old Town, a dive through the Moon Door, or a face from the House of Black and White. Just don't take your time because winter is coming, and you'll miss out on those long, lazy days of summer.
Westeros has undergone some violent social and political changes recently. However, the turmoil seems to have subsided for the moment. That makes today the best day to book passage on the Iron Fleet (or a first-class seat aboard a dragon for the more daring traveler). Upon your arrival, you can check in at any Visitor's Center to determine whether official threat alerts are Low, Guarded, Mad King, or Zombie Dragon.
While you're in Westeros, get the scoop on the region's fascinating history in the acclaimed library at the Citadel or experience it yourself through one of the cutting-edge Warg Experiences cropping up in every strip mall between Dorne and the Wall. Pick up a dragonstone sword at one of the local smithies or worship with one of the area's colorful congregations.
You may lose your head over the steep prices at King's Landing, but you'll never lose your way with your reliable Neutral Ground map of Westeros to guide you. The solid wood construction can double as a nifty doorstop. Pick yours up today!
These maps are etched on maple ply harvested from beyond the Wall. They measure 18-1/2" tall by 14" wide. Includes a keyhole slot on the rear for hanging.
This map is made in collaboration with John Muller, Lord Commander of Imaginary Maps, Hand of the Illustration, First of his Name and Christian Jackson, Maester of Vector, Learned Man of the Pen Tool, House of Adobe.
John Muller is a freelance illustrator and concept artist living in Aarhus, Denmark. Born and raised in South Africa, John has had a lifelong fascination with imaginary worlds. Whether reading books, playing Dungeons and Dragons or exploring the latest video game, he has always enjoyed exploring new frontiers in fiction. As an avid storyteller and history buff, he hopes one day to be able to build his own setting that might grace the pages of a DnD handbook. When he's not drawing, John can be found watching Star Trek, critiquing the latest blockbuster film or playing board games with his friends.
Christian Jackson is a freelance designer and illustrator quietly working his magic in the burbs of Chicago. With over 15 years in the business he has managed to have work featured on The ABC Television Network, 20th Century Fox, Lionsgate, Mashable, BuzzFeed, and many others. He runs a small home studio where he designs digital user experiences, and creates clever art, along with a few other swell goodies. As the father of four, his imagination is fueled by his kids and learning about life through play. He enjoys spending long hours staring at color pallets; finding new ways to misuse semi-colons; and Rick Rolling his friends like it's still 2007. He also likes less nerdy stuff like, existentialism, quantum physics, infinity, the number zero, and a comfortable arm chair with good ass bologna. You know, where your ass sits below your knees.