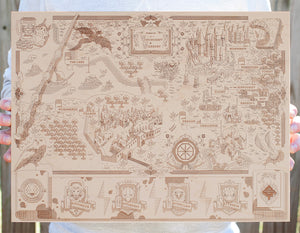 Woodlands: World of Witchcraft and Wizardry (Harry Potter)
Sale price Price $150.00 Regular price $0.00
Located in the bucolic Scottish Highlands, Hogwart's School of Witchcraft and Wizardry and its surrounding grounds have been rendered Unplottable to prevent thick Muggles from messing about. Fortunately for you, Neutral Ground's map of the vicinity provides exclusive, insider knowledge of this mysterious, sometimes dangerous terrain.
Our map is carefully crafted from wand-quality maple, which master wandmaker Garrick Ollivander has described as the tree of travelers, explorers, and high achievers. It details the best thoroughfares for quick passage from the Forbidden Forest to Hogsmeade Village, and highlights must-see attractions for admirers of the cheeky, young wizard Harry Potter.
Pop in for a cup of tea with Hagrid before testing your nerve at the Dragon Challenge. Take a tour of the lake on one of Hogwart's magical, self-propelled boats. And if you're fluent in Mermish, make a stop-over under the lake to experience the unique culture of the Merpeople.
However you choose to spend your magical holiday, our meticulous atlas will get you where you need to be faster than you can say Apparate.
Our Woodlands: World of Witchcraft and Wizardy map is a collaboration with Logan Faerber, a talented Muggle graphic designer based in Massachusetts.
These enchanting maps are etched on wand-quality maple ply hand-selected by Garrick Ollivander. They measure 18-1/2" wide by 14" tall. Magical properties may not be accessible to Muggles with no training in charms, potions, and spells.
Includes a keyhole slot on the rear for hanging.
Logan is a designer and illustrator at Raizlabs in Boston, MA, solving problems by creating applications for a variety of clients. Having grown up in New England he's always been fascinated with history and the idea of restless spirits, so Halloween and horror movies have always been his jam. He also grew up surrounded by comics, toys and 80's action movies; all of which have had a huge impact on his unhealthy level of nostalgia. When he's not designing a new application or illustrating posters, you can find him reading, riding a bike, playing tennis or basketball, drinking pumpkin beer, running around the block, mashing at a punk show, or cuddling his childhood panda, Pandy.