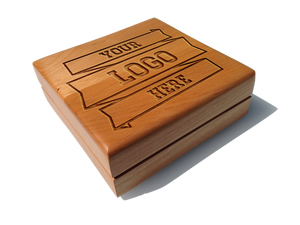 Heirloom Box
Sale price Price $30.00 Regular price
Customize our beautiful Heirloom Box with your name, a favorite photo, or a short message. Try to keep it under 80 characters, please. We've got a special product license from the amazing Jessica Hische in order to use her Buttermilk font so that we can etch your initials, too. The Heirloom Box measures 6-1/2" long, 6-1/2" wide, and 2-1/4" high. The insides of the lid and base are lined with black velvet.

The wood used is sourced sustainably from the beautiful Cascade Range in western North America.
Please upload an EPS, PDF or Adobe Illustrator file. The artwork must be true (100%) black on a white background.

Make sure all text and artwork is outlined. In Adobe Illustrator select everything, and navigate to Type > Create Outlines.