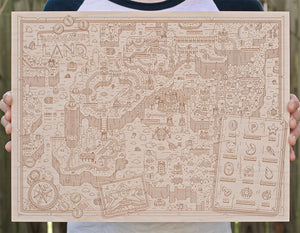 Woodlands: Dinosaur Land (Super Mario World)
Sale price Price $150.00 Regular price
Extreme travelers flock to Dinosaur Land sporting their finest Unzappable Hats and Zoom Shoes. But it's not the clothes that make the plumber. It's the Items. That's why savvy travelers consider Neutral Ground's highly-prized Wooden Map as critical to an adventure's success as their All Purpose Portable Plumber's Helpers.
Whether you're planning to visit Donut Plains' Boo-beset Ghost House or to explore the mysteries of the Forest of Illusion, you'll avoid Bottomless Pits and find secret exits using our Super Accurate Map of Dinosaur Land. It identifies the hottest spots for picking up a few extra Coins as well as areas best avoided unless you've got the Super Star Power of famous explorers like Mario the Plumber.
From Yoshi's Island to Cookie Mountain, via underground plumbing pipes or riding on the back of a Bullet Bill, you'll navigate Dinosaur Land with greater confidence using your custom-crafted Neutral Ground map.
Disclaimer: Please be advised, only the pure-hearted can open the box in which we deliver Dinosaur Land maps. Refunds will not be made if your ne'er-do-well ways prevent you from actually using the map.
This Woodlands map is a collaboration with Minneapolis' Super Graphic Designer Alex Griendling
Maps are etched on maple ply and are, as such, flammable. Keep your map safely stowed when confronted with Flamethrowers, Blowtorch Guys, and other fire hazards. They measure 18-1/2" wide by 14" tall and are capable of inflicting X2 damage to enemies.
Includes a keyhole slot on the rear for hanging.
Alex Griendling is a freelance graphic designer and illustrator who grew up in the geographically midwestern, culturally southern, state of Kentucky. After graduating, he left his home state to make movie posters in LA, ad campaigns in Minneapolis, and to work for Google in NorCal.
He likes to create work that makes people smile, and thinks that a lot of creative types are probably a little too stuffy for their own good. Somehow, he has more southern mannerisms now than when he left the south six years ago.
Alex now lives in Minneapolis with his lovely wife Meagan and their two not-so-lovely cats, Batman and Rocko.