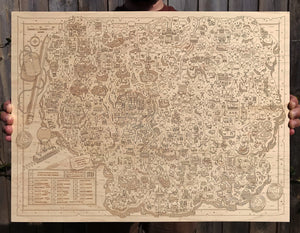 Woodlands: Fortnite
Sale price Price $150.00 Regular price
Pack your pickaxe and get your Battle Pass ready! It's time to hop aboard the Battle Bus and head to Athena to engage in the devil-may-care Battle Royale. Don't forget to thank your driver!
For fans of the supernatural, we recommend a day trip to Haunted Hills, where you can enjoy a stroll through spectral tombstones. Adventurers should make their way to Tomato Temple to explore the ruins and search for lost treasure. Leaky Lake, a must-see for curiosity-seekers, has been the site of strange anomalies, drawing crowds willing to test their mettle against the Six-Sided Mystery (a.k.a. 'Lil Kev).
When you've had enough of exploring and you need to refuel, stop by one of the island's two Durrr Burger for an order of fries and a Boss Burger. Then, hit the trails again to seek out one of the rare Supply Llamas in the Shifty Shafts region or knock off a few foes in Fatal Fields.
Whether you're in it for the glory or the hidden goods, our detailed map of Athena's terrain will keep you one step ahead of the competition.
This epic map is etched on wood harvested from the Wailing Woods by Powerbase Kyle and was created in collaboration with Alex Griendling, a cartographer committed to uncovering heretofore unimagined travel destinations. It measures 18-1/2" wide by 14" tall. You'll need to convert V-bucks for USD to purchase your map in our online shop.
Includes a keyhole slot on the rear for hanging.
Alex Griendling is a freelance graphic designer and illustrator who grew up in the geographically midwestern, culturally southern, state of Kentucky. After graduating, he left his home state to make movie posters in LA, ad campaigns in Minneapolis, and to work for Google in NorCal.
He likes to create work that makes people smile, and thinks that a lot of creative types are probably a little too stuffy for their own good. Somehow, he has more southern mannerisms now than when he left the south six years ago.
Alex now lives in Minneapolis with his lovely wife Meagan and their two not-so-lovely cats, Batman and Rocko.