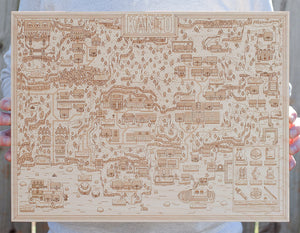 Woodlands: Kanto (Pokémon)
Sale price Price $150.00 Regular price $150.00
For fans of famed Pokémon trainer Ash Ketchum, a visit to the colorful Kanto region is a must. Lying just east of Johto, Kanto can be reached easily by steamboat or magnet train, and travel throughout the region is simplified by the logically numbered routes and your exclusive copy of Neutral Ground's legendary map.
Though it's possible to cover all of the Kanto region by foot, a trip to Cerulean City's renowned bike shop will make travel between cities much faster. This comes in particularly handy if you want to make a quick escape from the nearby Lavender City and its ominous Ghost-type Pokemon.
Naturally, you'll want to make a stop in Palette City and take in the region's most beloved tourist attraction - Ketchum's childhood home. While you're in the area, consider taking a quick boat trip to Cinnabar Island to visit the cutting-edge Pokemon Lab and the crumbling Pokemon Mansion.
If you're hoping to build your own Pokédex during your trip, gear up in Celadon City's Department Store. Then head out into the Pokémon-rich Viridian Forest and its surrounding grasslands where wild Pokémon often appear. Finish up your stay with a visit to Indigo Plateau where you can watch Pokémon Masters face off or join in the battles yourself.
Wherever you go, get there faster than a Deoxys in Speed Forme with your Neutral Ground map of Kanto.
Our Woodlands: Kanto map is made in collaboration with Dallas, Texas resident Daniel Mackey. His graphic design abilities are Super Effective.
Maps are etched on maple ply from the Viridian Forest, and they measure 18-1/2" wide by 14" tall - a perfect fit for a larger backpack!
Includes a keyhole slot on the rear for hanging.
Daniel Mackey
is a freelance illustrator and hand letterer residing just outside of Dallas, Texas.
Originally illustrating for his own entertainment, eventually turned into a full time endeavor of creating gaming artwork as well as producing logos and packaging for independent companies. Having grown up fascinated with all things Nintendo played a big role in pursuing what he is doing today with art. When he's not stuck behind a computer screen, he's on tour playing in a band known as Rival Choir, playing Smash Bros, collecting toys and comics, drinking coffee or watching Netflix with his girlfriend and dog.