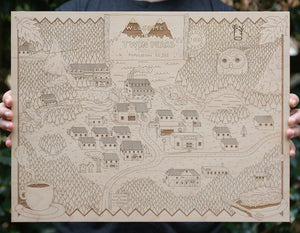 Woodlands: Twin Peaks
Sale price Price $150.00 Regular price $0.00
Murder may have put the small Northwest Passage town of Twin Peaks on the map, but it's the coffee and pie that keeps visitors coming back for more. And with Neutral Ground's authentic map of the area, you can explore the spectacular wilderness of Ghostwood National Forest with the same confidence that you'll explore the Double R Diner's menu.
Have sweet dreams at the rustic Great Northern Hotel, or if you're feeling more adventurous, camp beneath the stars in Glastonbury Grove. Stop by the popular Road House for an evening of haunting music performed by the unforgettable Road House Singer. Or visit the illicit One-Eyed Jack's for a night of gambling and debauchery. There are hundreds of ways to indulge yourself in Twin Peaks.
Our Woodlands: Twin Peaks map is a collaboration with a graphic designer from Another Place, Alessandro Ripane.
The maps are etched on hand-selected maple ply processed at the Packard Saw Mill. They measure 18-1/2" wide by 14" tall and make a fine substitute for a prophetic log if none are available to the traveling shaman.
Includes a keyhole slot on the rear for hanging.
Alessandro Ripane was born in Genoa (Italy, but he's lived and worked for a period in Sweden) exactly in the middle of 1989. Due to the lack of wild animals in the city of Genoa, Alessandro bought a lot of books about them. Due to the lack of superheroes, Alessandro bought a lot of comics about them. Needless to say, he soon became an expert in both categories. He draws nearly everything, except aliens, because he's sure how they're dressed. Now, Alessandro is engaged to fight the fall of his hair, to learn how to draw aliens and to watch a lot of movies about monsters and zombies that he hasn't seen.