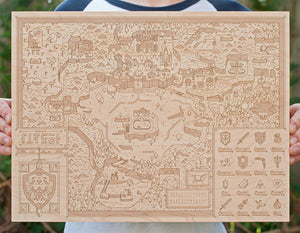 Woodlands: Hyrule (The Legend of Zelda: Ocarina of Time)
Sale price Price $150.00 Regular price
The kingdom of Hyrule has undergone frequent periods of political unrest that have proven dangerous to even seasoned travelers. However, famed adventurer Link of Ordon Woods stresses it's a destination worth the risk so long as you come with plenty of rupees, a trusty sword, and an official Neutral Ground map of the territory.
Hyrule's largest settlement, Hyrule Castle Town is named after Princess Zelda's family estate, which looms over the settlement. The Happy Mask Shop and the Royal Hyrule Library are perennial favorites with casual tourists. For travelers who prefer more robust pursuits, there's always the Bombchu Bowling Alley.
If you plan your trip to Hyrule Castle Town accordingly, you can test your skills against some of the land's most formidable swordsmen at the annual Picori Festival's sword-fighting tournament. Past winners include the wind mage Vaati as well as the Blade Brothers and King Daltus.
Our map of Hyrule offers intrepid travelers easy passage across the expansive Hyrule Field and over the treacherous, Tectite-infested Death Mountain Trail. While we weren't granted permission by the Royal Cartographer to include directions to all of Hyrule's hidden portals, we did slip one secret passageway past him.
Cautionary wisdom for first-time Hyrule tourists: Visitors intent on traversing Death Mountain should apply for permission from the Royal Family before making the trip.
This Woodlands map is a collaboration with Minneapolis native Alex Griendling. Mage of graphic design.
These legendary maps are etched on maple ply harvested from the Kokiri Forest under the guidance of the master Hyrule cartographer Tingle. They measure 18-1/2" wide by 14" tall. You will need to exchange rupees for USD to purchase your map in our online shop. Or you could wander aimlessly through fields and forests in the hopes of finding one that's been dropped by another traveler.
Includes a keyhole slot on the rear for hanging.
Alex Griendling is a freelance graphic designer and illustrator who grew up in the geographically midwestern, culturally southern, state of Kentucky. After graduating, he left his home state to make movie posters in LA, ad campaigns in Minneapolis, and to work for Google in NorCal.
He likes to create work that makes people smile, and thinks that a lot of creative types are probably a little too stuffy for their own good. Somehow, he has more southern mannerisms now than when he left the south six years ago.
Alex now lives in Minneapolis with his lovely wife Meagan and their two not-so-lovely cats, Batman and Rocko.