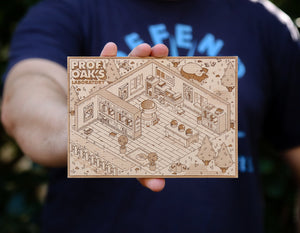 Woodlands Mini: Professor Oak's Lab (Pokémon)
Sale price Price $40.00 Regular price $40.00
About this listing
Pallet Town is practically a pilgrimage site for Pokémon trainers following in the famous Ash Ketchum's footsteps. For those die-hard fans eager to have an authentic experience with all the amenities, book a weekend at Professor Oak's laboratory in the Kanto Region. We're just a ferry away from Cinnabar Island, and Viridian City is an easy bike ride from the lab.
After a full day of exploring the Kanto Region's many sights, you and your Pokémon can both recharge at this state-of-the-art lodging. While you indulge in the carefully curated library, the professor's aides will lovingly refresh your Pokémon back to full health.
The Space
Accommodates: 2
Bathrooms: 1
Bed type: Snorlax
Beds: 1
Property Type: Research facility
Room type: Entire home/apt
House Rules
The many Trainers of Pallet Town house their extra Pokémon in this lab, and the notorious Team Rocket have made robbery attempts in the past. For everyone's safety, please take care to lock all doors when you leave for the day! Thanks, Professor Oak.
Instant Book Your Order for Professor Oak's Lab Now!
Professor Oak's Lab is a collaboration with Dallas' Legendary-Type Designer Daniel Mackey.
This mini map is etched on maple ply using Fire Blast followed immediately by Magma Storm. It's Super Effective! The mini map measures 7" wide by 5" tall, and when given as a gift, this Strange Souvenir can raise your Friendship by as much as 20 points.
Includes a keyhole slot on the rear for hanging.
Daniel Mackey
is a freelance illustrator and hand letterer residing just outside of Dallas, Texas.
Originally illustrating for his own entertainment, eventually turned into a full time endeavor of creating gaming artwork as well as producing logos and packaging for independent companies. Having grown up fascinated with all things Nintendo played a big role in pursuing what he is doing today with art. When he's not stuck behind a computer screen, he's on tour playing in a band known as Rival Choir, playing Smash Bros, collecting toys and comics, drinking coffee or watching Netflix with his girlfriend and dog.